IV International Training Course in Topography for Young Surveyors
17-28 September 2012, Madrid, Spain


The Young Surveyors participating in this year's training course in Topography.
Fifty young surveyors from 17 countries participated in this year's training course. The countries represented included Albania, Belgium, China, Denmark, Estonia, Germany, Greece, Italy, Kosovo, Macedonia, Moldova, Montenegro, Morocco, Russia, Slovenia, Spain and Turkey. For the first time it included young surveyors from China, Denmark, Germany and Morocco.
The eleven teachers for the course came from Greece, Italy, Spain, Turkey and the UK.
The course was organized by the Consiglio Nazionale in cooperation with S.P.A. Geoweb, with the local support of the Spanish land Surveyor's Association (C.O.I.T.T.) and sponsorship by the FIG Foundation and CGLE.
The Opening Ceremony began with welcome addresses by Fausto Savoldi, President of CNGeGL and Dott. Gieuseppe Simeone, CEO of GEOWEB.
FIG was represented at the Opening Ceremony by FIG Foundation President John Hohol (USA) who also represented FIG; FIG Young Surveyors Network (YSN) Secretary Eva-Maria Unger (Austria); FIG's incoming Vice President Bruno Razza (Italy) and FIG Commission 3 Chair-Elect Enrico Rispoli (Italy). Aliona Scutelnic (Moldova), a member of the FIG YSN, spoke of her experience participating in the 2011 course held in Athens, Greece.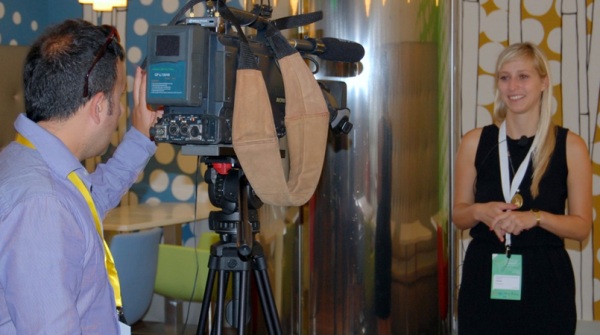 Eva-Maria Unger being interviewed after Opening Ceremony (image courtesy of Lilia D'Alesio)
Also present and making welcoming statements were Jean-Yves Pirlot, President of CLGE; Randolph Cammileri, President of EGoS; Aziz Hallil, President of UMG; Nikos Zacharis, Vice-President of EGos; Andres Diez Galilea, President of C.O.I.T.T.; and Pedro Ortiz, head of international affairs and the local authorities.
Requirements to participate in the course were:
- Age up to 35 years old;
- Good knowledge of English language;
- Expertise in the field of topography (curriculum)
- Not present in the previous courses;
- Moral and psycho-physical requirements that are valid to work in the Public Administration and to practise the free profession.
Areas of study included topographical and geometric surveys, production of large-scale orthoimages with the use of a simple digital camera on a UAV (unarmed aerial vehicle), GNSS surveys, geodetic reference systems, RTK, photogrammetric and LIDAR surveys, geo-referencing of cadastral maps, remote sensing and structural monitoring and deformation surveys.
John Hohol
September 2012
15 October 2012