News in 2015

InterGeo 2015 – FIG was present with a stand
15-17 September 2015 in Stuttgart, Germany
INTERGEO 2015 was held in Stuttgart, Germany from 15-17 September 2015. INTERGEO is the world's largest trade fair for geodesy, geoinformation and land management and is one of the key platforms for industry dialogue since it covers a wide variety of fields, ranging from surveying, geoinformation, remote sensing and photogrammetry to complementary solutions and technologies.
The exhibition was as always remarkable, and INTERGEO scored 15 percent growth in exhibitors and floorspace and attracted a very impressive 16,500 visitors. 3 large halls were filled with the latest news within Geoinformation. This year more than 500 exhibitors showcased their products and applications in a digital world. Applications on and around Geoinformation are socially relevant areas for the future.
In conjunction with the trade exhibition a conference was held revolving around the future of the industry or "Geospatial 4.0".
The opening that took place at Stuttgart's Kunstmuseum was led by DVW President Prof. Dr. -Ing. Karl-Friedrich Thöne who welcomed both German and International representatives, hereunder FIG President Chryssy Potsiou. Representatives from Baden Württemberg and Germany elaborated over "Geospatial 4.0". According to DVW president Karl-Friedrich Thöne, the key theme at INTERGEO 2015 holds the potential to launch a new era as the intelligent networking enabled by Geospatial 4.0 will bring with it revolutionary change.
The INTERGEO Conference showcased and discussed current topics from fields of geodesy, geoinformation, land management and cartography.
At the first plenary session ICA President Prof. Georg Gartner and Chris Cappelli (ESRI) outlined their visions for the future of maps and the maps of the future. The challenge today is not to get information – there is plenty of information available, but to use the information intelligently. Maps are an excellent tool for the more intelligently use of information.
The second plenary session was held as a panel discussion between CEOs Ola Rollen (Hexagon), Bryn Fosburgh (Trimble) and Chris Cappelli (Esri) with an introduction by Bengt Kjellson as the Chair of the European UN-GGIM. Durk Haarsma (GIM International) moderated the session. Apart from the same key message from the day before the main message from the three Corporate representatives was "Education" and also that governments and UN-entities should be more willing to make decisions. The industry is willing to cooperate but some overall directions are needed.
FIG President Chryssy Potsiou and Vice President Rudolf Staiger attended INTERGEO. They, together with FIG Manager Louise Friis-Hansen, had meetings with the major FIG corporate members, with other international representatives, and also with various member associations.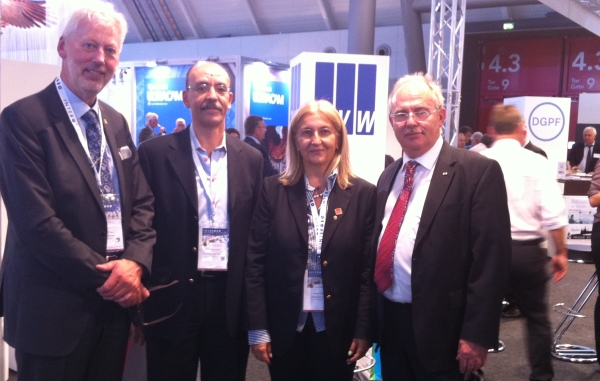 FIG President Dr. Chryssy Potsiou and Prof. Charalabos Ioannidis together with DVW representatives.
John Hohol, Chair of Task for Corporate Members and president of FIG Foundation also attended INTERGEO and had meetings with potentially new corporate members.
Again this year FIG had a stand. The FIG stand offered various information and about Christchurch, New Zealand and of course also about the FIG Working Week 2016. Hopefully many were inspired to attend the Working Week 2016 either as participant or exhibitor/sponsor. The Working Week takes place in post-earthquake Christchurch, New Zealand from 2-6 May 2016. More information at www.fig.net/fig2016
The FIG representatives had the chance to talk with many visitors, both those who play an active role within FIG and also many who through the exhibition got acquainted with FIG and the work FIG is undertaking throughout the world.
Pekka Halme, the co-conference director of the 2017 FIG Working Week attended INTERGEO Tuesday where he had a meeting with the FIG Office where the progress of the preparations for the Working Week was discussed. More information at www.fig.net/fig2017
The FIG Task Force on Commission Structure had a meeting during INTERGEO. The meeting was attended by the chair of the Task Force Mikael Lilje, Sweden, Henning Elmstrøm, Denmark, Frank Friesecke, Germany, Jürg Kaufmann, Switzerland and Stephen Djaba, Ghana. The next meeting will be held in November in Copenhagen.
| | |
| --- | --- |
| The FIG Stand was very busy. Joel van Cranenbroeck talks with FIG President Chryssy Potsiou and Hanne Elster from the FIG Office. | From left: Rudolf Staiger, Casper Fibæk, Hanne Elster, Claudia Stormoen and Louise Friis-Hansen |
| The FIG Stand at INTERGEO | |
INTERGEO 2016 will be held in Hamburg from 11 to 13 October.
26 September 2015