News in 2020

Meet FIG at Intergeo
13-15 October

Intergeo – the world's largest event for mapping and surveying professionals and beyond – will be held as a digital edition this year.
Again this year FIG will have a "booth" - this year a virtual booth.
FIG will be represented by president Rudolf Staiger, Claudia Stormoen and Louise Friis-Hansen from the FIG office, and representatives from FIG e-Working Week 2021.
If you would like to book a meeting please contact Louise Friis-Hansen by email lfh@fig.net or phone +45 9391 0810.
Get your free ticket for Intergeo
We are happy to be able offer free expo tickets to our community. The corresponding voucher code is: FIG-INTERGEO2020. These can be redeemed at the Expo ticket shop: https://www.messe-ticket.de/HINTE/INTERGEOEXPO2020
There will be more than 200 exhibitors at the fair - an opportunity not to miss.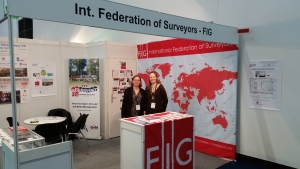 FIG stand at Intergeo 2018 in Frankfurt.
Claudia Stormoen
24 September
©2023 FIG