International Federation of Surveyors
Fédération Internationale des Géomètres
Internationale Vereinigung der Vermessungsingenieure

FIG Newsletter – November 2019
---
Dear Colleague,
Learning is always useful... and can take place in different settings; whether alone or together with others. This newsletter provides you with different ways to learn and get valuable knowledge, among other:
- the up-coming FIG Working Week 2020 in Amsterdam, where you will be met with a substantial technical programme and a possibility to exchange knowledge, learn and network with others. Registration has now opened so you can register now at the early-bird fee.

- on your own but not alone: ESRI, a FIG Platinum Corporate Member, invites you to a webinar on Fit-for-Purpose Land Administration with LADM on 4 December 2019. Sign up now.
---
Article of the Month
Each month on FIG web site you can find a special selected paper: FIG Article of the Month.
The Article of the Month for November 2019 is written by Pasi Häkli et al:
New Horizontal Intraplate Velocity Model for Nordic and Baltic Countries
The Nordic countries have a long tradition on studying the GIA (or land uplift) phenomenon. Latest efforts have been conducted in collaboration under the Nordic Geodetic Commission (NKG) and have resulted in some common Nordic-Baltic land uplift and deformation models. This paper describes the latest development of horizontal intraplate velocity model.
---
FIG Working Week 2020 10-14 May 2020 in Amsterdam, the Netherlands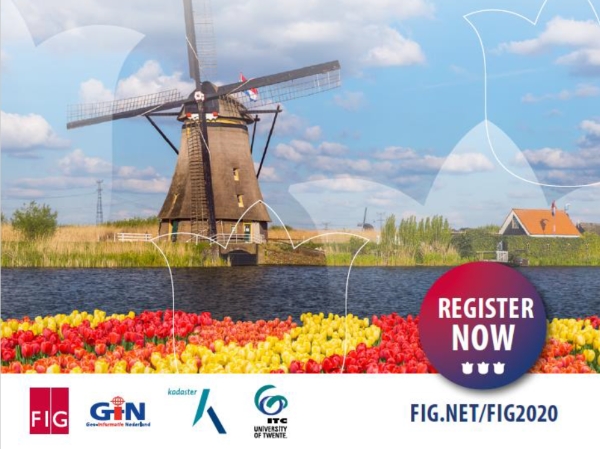 FIG and the Local Organisers from the Netherlands welcome all to Amsterdam. FIG Working Week 2020 will be an exciting event with several pre and post events, three packed conference days, interesting technical tours and of course our special social events.
The FIG Working Week 2020 in Amsterdam is addressing the following overall theme:
Smart Surveyors for Land and Water Management
This theme is relevant both for the Netherlands and internationally in a world where drinking water is a scarce resource, waste water needs to be recycled rather than seen as waste, where the sea needs to be better mapped and managed, where land resources need to be protected against sea-level rise, and where land-based fresh water habitats are threatened.
The technical programme will offer you a varied selection of sessions and presentations within all fields of surveying that are covered by the 10 FIG Commissions. Institutional Partners of the Working Week are UN-GGIM, UN-Habitat/GLTN and FAO.
| | |
| --- | --- |
| | Register now - your to-do list: |
Exhibition and Sponsorship opportunities
Secure your stand at the exhibition and be visible with the sponsorship opportunities. The exhibition will take place in the break and catering areas ensuring a constant flow of participants.
The Working Week Web Site: www.fig.net/fig2020

---
Attend ESRI Webinar: Fit-for-Purpose Land Administration with LADM

There is no longer a need for custom programming, complex implementations, and special skills to build and maintain your cadastral system. Now organizations can use commercial off-the-shelf (COTS) GIS data and technology and standard data models, such as the Land Administration Domain Model (LADM), to deliver cadastral systems that are quickly implemented; scalable; capable of evolving with changing requirements; and supported by numerous public, private, and nongovernmental organization (NGO) communities.
This new approach addresses many past challenges of system cost, intermittent internet connectivity, accuracy, scalability, and security. Register for this upcoming webinar to see how you can implement a fit-for-purpose solution.

---
NEWS FROM COMMISSIONS AND NETWORKS
8th Plenary Meeting of UN-GGIM-AP - Asia Pacific Capacity Development Network Report



The FIG Asia Pacific Capcity Development Network (AP CDN) were invited by the President of the United Nations Global Geospatial Information Management for Asia and the Pacific (UN GGIM AP), to participate in its 8th Plenary Meeting held in Canberra – Australia on 3-5 November 2019
Read more
---
Newsletters and publications:
FIG Commission 7 - Cadastre and Land Management: Newsletter November 2019
FIG Commission 8 - Spatial planning and development: Newsletter November 2019
---
FIG ANNOUNCEMENTS
Last call for nominations for two FIG Vice Presidents
| | |
| --- | --- |
| | FIG Council encourages Member Associations to consider nominations for the two positions as FIG Vice President for the term 2021-2024. Election will take place at the General Assembly 2020 in Amsterdam, the Netherlands. Deadline is 16 December. Read more |
---
Last call for Bids for FIG Working Week 2024
| | |
| --- | --- |
| | FIG Council announces the bidding material for the FIG Working Week 2024. All member associations are encouraged to consider to submit a bid. Election of the destination will take place at the Working Week 2020 and General Assembly in Amsterdam, the Netherlands. Read more |
---
FIG Foundation news - open grants
---
Jobs
Commercial sector engagement opportunity at GEO - Group on Earth Observations. More info
---
Events
1-4 April 2020, Dubrovnik, Croatia
INGEO Conference, held together with the Symposium on Engineering Geodesy (SIG), supported by FIG Commission 6 - Engineering Surveying Web site: http://ingeo-sig2020.hgd1952.hr/
10-14 May 2020 Amsterdam, the Netherlands

2-4 June 2020, Bydgoszcz, Poland
28th SCEgeo Conference "Surveying, Civil Engineering, Geoinformation in Sustainable Development"organised by UTP University of Science and Technology Faculty of Civil and Environmental Engineering and Architecture Association of Polish Surveyors, Branch in Bydgoszcz. Supported by FIG Commission 6 Web site: http://scegeo.utp.edu.pl
30 August-5 September 2020, Bern, Switzerland
FIG Commisison 7 Annual Meeting Organised by Romanian Surveyors Union Save the date
13-15 October 2020, Berlin, Germany
Intergeo. Get complimentary entrance ticket to the fair through FIG.
Web site: www.intergeo.dee

---
FIG on Social Media:




Remember that you can follow FIG on the social media.
If you have not already joined, join us today:
Facebook: https://www.facebook.com/#!/internationalfederationofsurveyors
Twitter: https://twitter.com/FIG_NEWS
LinkedIn: http://www.linkedin.com/groups?gid=2669121&trk=myg_ugrp_ovr
Instagram: https://www.instagram.com/figsurveyors/
---

The monthly Newsletter is mailed to all members, commission delegates and all interested partners. FIG offers the Newsletter to all members of member associations and other interested in FIG. If you don't already get your copy you can order it now at: www.fig.net.

FIG Newsletter brings you latest information about FIG and its activities. The information referred here is in full length available on the FIG web site. Thus the Newsletter is produced to inform you what has happened recently and what interesting things are going to take place in the near future. The FIG Newsletter is circulated monthly or bi-monthly by e-mail. The referred articles are in English and written in a way that you are able to extract them to your national newsletters or circulate to your members and networks.

If you do not want to receive the newsletter in the future, please click here to unsubscribe from the mailing list
.
---
Kind regards,
Ms. Louise Friis-Hansen
Director
International Federation of Surveyors
Fédération Internationale des Géomčtres
Internationale Vereiningung der Vermessungsingenieure
International Federation of Surveyors
Kalvebod Brygge 31-33
DK-1780 Copenhagen V
Tel. + 45 3886 1081
Direct: + 45 9391 0810
louise.friis-hansen@fig.net


www.fig.net
FIG Working Week 2020, 10–14 May 2020. Amsterdam, Netherlands
Web site: www.fig.net/fig2020
FIG Working Week 2021, 24-28 May 2021, Accra, Ghana
Web site:

www.fig.net/fig2021
FIG Congress 2022, Cape Town, South Africa
FIG Working Week 2023, Orlando, Florida, USA
Subscribe monthly FIG Newsletter at: www.fig.net
Join FIG at LinkedIn: http://www.linkedin.com/groups?gid=2669121&trk=group-name
Join FIG at Twitter: https://twitter.com/FIG_NEWS
Join FIG at Facebook: https://www.facebook.com/#!/internationalfederationofsurveyors
Join FIG at Instagram: https://www.instagram.com/figsurveyors/