International Federation of Surveyors
Fédération Internationale des Géomètres
Internationale Vereinigung der Vermessungsingenieure

FIG Newsletter – December 2019/January 2020
---
Dear Colleague,
First of all, the very best wishes for a Happy New Year, and a prosperous 2020. We do hope that 2020 will bring many good and interesting moments for you - one of them being the FIG Working Week 2020. We hope to see you in May in Amsterdam - read more in this newsletter about the many and different offers you will be exposed to during the Working Week, hereunder the very special pre-events that offer a variety of topics and specialist knowledge, and the technical tours that are specifically prepared to you by the local Dutch organisers. FIG Foundation announces several grants, one to attend the Working Week and Young Surveors Conference, a Ph.D. Scholarship, and an Academic Research Grants. Please check the requirements carefully.
---
Article of the Month
Each month on FIG web site you can find a special selected paper called "FIG Article of the Month".
December 2019
The article of the month December 2019 is written by Christiaan Lemmen and Peter Van Oosterom, The Netherlands, Abdullah Kara, Turkey, Eftychia Kalogianni, Greece, Anna Shnaidman, Israel, Agung Indrajit, Indonesia, Abdullah Alattas, Saudi Arabia: The scope of LADM revision is shaping-up. The Land Administration Domain Model (LADM) has been ISO standard for the past 7 years and is now undergoing a review. This paper was presented at the 8th FIG Workshop on LADM, October 2019 in Kuala Lumpur, Malaysia and reports on the background, the development of Edition II, and the initial stage of the revision process where FIG Commissions 7 'Cadastre and Land Management', 8 'Spatial Planning and Development', and 9 'Valuation and the Management of Real Estate'; as well as ISO/TC211; IHO and OGC cooperate. Read the article
January 2020
The Article of the Month January 2020 is written by Edi Meier, Inma Gutiérrez, Marco Baumann, Max Bosshard And Rainer Heeb, Switzerland: Detection of Service Pipes and the Risk of Collapsing Sinkholes at the Lake of Constance in Switzerland Using Ground Penetrating Radar (GPR). This paper was presented at the FIG Working Week 2019 in Vietnam. The paper describes how Ground Penetrating Radar is used to document the present underground condition of the water front of the harbour promenade in Arbon (Lake of Constance) in Switzerland. This nondestructive method gives as a result images of the subsurface structures as well as of installations like service pipes. Read the article
---
FIG Working Week 2020, 10-14 May 2020 in Amsterdam, the Netherlands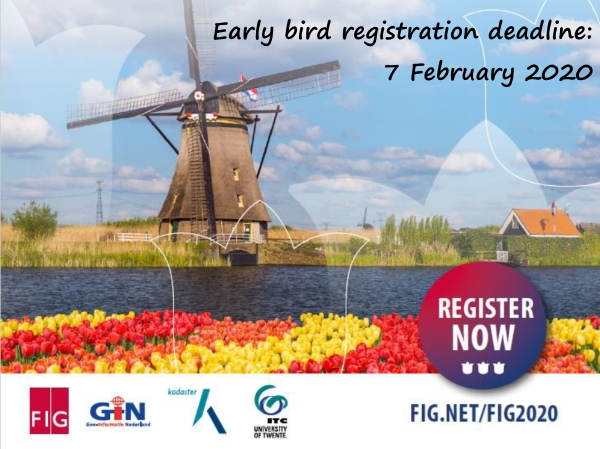 FIG and the Local Organisers from the Netherlands welcome you to Amsterdam. FIG Working Week 2020 will be an exciting event with several pre and post events, three packed conference days, interesting technical tours and of course our special social events.
The FIG Working Week 2020 in Amsterdam is addressing the following overall theme:
Smart Surveyors for Land and Water Management
This theme is relevant both for the Netherlands and internationally in a world where drinking water is a scarce resource, waste water needs to be recycled rather than seen as waste, where the sea needs to be better mapped and managed, where land resources need to be protected against sea-level rise, and where land-based fresh water habitats are threatened.
The technical programme will offer you a varied selection of sessions and presentations within all fields of surveying that are covered by the 10 FIG Commissions. Institutional Partners of the Working Week are UN-GGIM, UN-Habitat/GLTN and FAO.
Pre-events
The Working Week is not only consisting of a technical programme during the three conference days 11-13 May 2020. Also pre- and post-events are offered to give you extra possibility for absorption in one of the following topics:
Scaling Up – Fit For Purpose Land Administration (9-10 May)
Surveying and BIM Classroom (9 May)
Plastic Mapathon - hackaton focusing on finding innovative ways to map plastic & Plastic Survey (9-10 May)
Parcel Management Solution - by Esri (10 May)
and
5th Young Surveyors Conference (9-10 May)
Post-event
A comprehensive tour: Dutch land- and water management - Water management on land - How water shaped spatial planning and development in the Netherlands (14 May)
http://fig.net/fig2020/other_pre-post_events.htm
Technical tours
In parallel with the technical programme during the three conference days you can sign up for technical tours which give you a unique possibility to learn more about and explore the host country in a way you would not be able to as a tourist. The following tours are planned (pre-registration is needed, there is limited number of seatss available and all tours are based on a minimum number of participants)). These tours will show you around both in Amsterdam, e.g. at the port of Amsterdam, expand your horizons at GeoFort, visit Geodan a Dutch geo-information company, learn about the Delft Railway Area project and other special tours. See all tours: http://fig.net/fig2020/techtours.htm
| | |
| --- | --- |
| | Register now - your to-do list: |
Exhibition and Sponsorship opportunities
Secure your stand at the exhibition and be visible with the sponsorship opportunities. The exhibition will take place in the break and catering areas ensuring a constant flow of participants.
The Working Week Web Site: www.fig.net/fig2020

---
FIG Foundation grants - note the deadlines
| | |
| --- | --- |
| | FIG Foundation has four open grants - before applying please check the requirements carefully: |
---
NEWS FROM FIG
14th Meeting of the International Committee on Global Navigation Satellite Systems (ICG-14)
Suelynn Choy who represented FIG reports from the meeting that took place 9-13 December 2019 in Bangalore, India.
Read more
FIG Young Surveyors Regional Events
During the second half of 2019 two Young Surveyors regional events were held - in Europe and in Africa.
Read more
CASLE Golden Jubilee Conference 2019: "The surveying profession; past, present and future"
FIG Vice President Dr Diane Dumashie attended the CASLE Golden Jubilee Conference held in London, on 12th and 13th September 2019.
Read more
Seminar on geospatial information, ecological environment and sustainable developments
| | |
| --- | --- |
| | Suelynn Choy who represented FIG reports from the meeting that took place 9-13 December 2019 in Bangalore, India.On 15-16 December 2019, experts met in the city of Deqing, China, for a meeting on geospatial information, ecological environment and sustainable development. Hans Ni from China reports. Read more |
---
FIG ANNOUNCEMENTS
Welcome to two new FIG Members



---




At its meeting on 17 January 2020, FIG Council approved Carlson Software as FIG Corporate Member
One new affiliate member was also approved: Real Estate Administration of Montenegro
Welcome to both!
Read more
---
Jobs
New job opportunities at Aalto University, and invitation for proposals for Group on Earth Observations. More info
---
Events
1-4 April 2020, Dubrovnik, Croatia
INGEO Conference, held together with the Symposium on Engineering Geodesy (SIG), supported by FIG Commission 6 - Engineering Surveying Web site: http://ingeo-sig2020.hgd1952.hr/
10-14 May 2020 Amsterdam, the Netherlands

2-4 June 2020, Bydgoszcz, Poland
28th SCEgeo Conference "Surveying, Civil Engineering, Geoinformation in Sustainable Development"organised by UTP University of Science and Technology Faculty of Civil and Environmental Engineering and Architecture Association of Polish Surveyors, Branch in Bydgoszcz. Supported by FIG Commission 6 Web site: http://scegeo.utp.edu.pl
30 August-5 September 2020, Bern, Switzerland
FIG Commisison 7 Annual Meeting Organised by Commission 7 and Federal Office of Topography swisstopo Save the date
14-18 September 2020, Timisoara, Romania
Romanian Surveyors Week
13-15 October 2020, Berlin, Germany
Intergeo. Get complimentary entrance ticket to the fair through FIG.
Web site: www.intergeo.dee

---
FIG on Social Media:




Remember that you can follow FIG on the social media.
If you have not already joined, join us today:
Facebook: https://www.facebook.com/#!/internationalfederationofsurveyors
Twitter: https://twitter.com/FIG_NEWS
LinkedIn: http://www.linkedin.com/groups?gid=2669121&trk=myg_ugrp_ovr
Instagram: https://www.instagram.com/figsurveyors/
---

The monthly Newsletter is mailed to all members, commission delegates and all interested partners. FIG offers the Newsletter to all members of member associations and other interested in FIG. If you don't already get your copy you can order it now at: www.fig.net.

FIG Newsletter brings you latest information about FIG and its activities. The information referred here is in full length available on the FIG web site. Thus the Newsletter is produced to inform you what has happened recently and what interesting things are going to take place in the near future. The FIG Newsletter is circulated monthly or bi-monthly by e-mail. The referred articles are in English and written in a way that you are able to extract them to your national newsletters or circulate to your members and networks.

If you do not want to receive the newsletter in the future, please click here to unsubscribe from the mailing list
.
---
Kind regards,
Ms. Louise Friis-Hansen
Director
International Federation of Surveyors
Fédération Internationale des Géomčtres
Internationale Vereiningung der Vermessungsingenieure
International Federation of Surveyors
Kalvebod Brygge 31-33
DK-1780 Copenhagen V
Tel. + 45 3886 1081
Direct: + 45 9391 0810
louise.friis-hansen@fig.net


www.fig.net
FIG Working Week 2020, 10–14 May 2020. Amsterdam, Netherlands
Web site: www.fig.net/fig2020
FIG Working Week 2021, 24-28 May 2021, Accra, Ghana
Web site:

www.fig.net/fig2021
FIG Congress 2022, Cape Town, South Africa
FIG Working Week 2023, Orlando, Florida, USA
Subscribe monthly FIG Newsletter at: www.fig.net
Join FIG at LinkedIn: http://www.linkedin.com/groups?gid=2669121&trk=group-name
Join FIG at Twitter: https://twitter.com/FIG_NEWS
Join FIG at Facebook: https://www.facebook.com/#!/internationalfederationofsurveyors
Join FIG at Instagram: https://www.instagram.com/figsurveyors/