International Federation of Surveyors
Fédération Internationale des Géomètres
Internationale Vereinigung der Vermessungsingenieure

FIG Newsletter – August/September 2021
---
Dear Colleague,
In this newsletter please find several special offers to you.
Reserve your free ticket to Intergeo using your FIG code, and meet Commissions, Young Surveyors Network and FIG office at the FIG virtual stand.
FIG Commission 7 and 2 meetings also take place next week. It is online so please register and join.
More than 35 years of research has resulted in 3,000 pages on the History of Surveying written and compiled by Jan De Graeve and Jim Smith, both honorary members of FIG. This amazing work is now available in a limited special edition - reserve your book set now. Unfortunatey, Jim Smith did not get the final books in his hands, as he passed away last month, but he was taking vivid part in the printing process. Luckily, Jim experienced being appointed Honorary Member at the General Assembly in June 2021.
You can read and experience more about the General Assembly in the minutes and the recordings of the four general Assembly sessions.
Interested... read on:
---
NEWS FROM FIG
| | |
| --- | --- |
| | 73 official delegates and around 300 participants attended the four sessions in this dfferent online General Assembly. The minutes are now available. Read also the report from the General Assembly, the eWorking Week report, get access to the recordings of the four General assembly sessions... Read more |
---
FIG e-Working Week 2021 report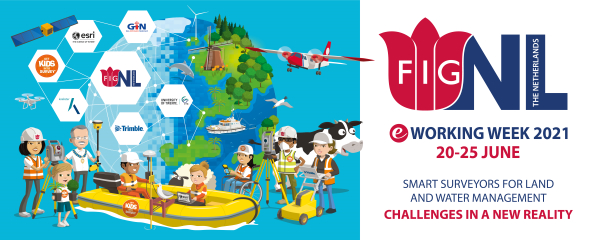 Well, now we have also tried this - a fully online event. 1301 participants met virtually, all with the common purpose to attend in the over 80 sessions and other activities that took place during these 6 packed days. These 1301 participants came from in total 110 countries.
---
Obituary
It is with great sadness that we have to announce that Jim Smith passed away on 12 August 2021. Just appointed FIG Honorary Member and current with 7 volumes of the History of Surveying.
Read more
---
PUBLICATIONS
Article of the Month
Each month on FIG web site you can find a special selected paper called "FIG Article of the Month".
The Article of the Month in
September 2021: In this "Video of the Month Series" Narelle Underwood, Chitra Weddikkara, Paul Olomolaiye and Victoria Stanley talk with FIG Vice President Diane A Dumashie about what the surveying community can do to boost equality and ensure the land and property sector is sustainable and resilient. Read more and watch the video....
August 2021 is the second month with a video recording of one of the keynote sessions at the FIG e-Working Week 2021. In this recording Greg Scott and Rosamond Carter Bing talk with Anders Sandin about the UN-GGIM Integrated Geospatial Information Framework - IGIF. They discusse the current status of the development of IGIF and what steps and actions are needed by member states for the implementation of IGIF. Read more and watch the video...
---
These seven books include a life-long research and work of Jim Smith and Jan De Graeve on the History of Surveying. 100 special Edition Sets of the seven volumes are currently being printed. Please read more in the flyer and how to reserve your copy of this special edition.
Read more
---
EVENTS
FIG Commission 2 and 7 Meetings 2021
The meetings and event will be held at the University of Melbourne 20-23 September 2021 with the theme "Mapping the future of land administration". The meeting will also be available online.
Read more

| | |
| --- | --- |
| | Get your free ticket to Intergeo through FIG. At intergeo - live and digital - you can meet over 250 exhibitors . You are welcome to come by the FIG virtual booth. Here you can meet FIG representatives from Commissions, Young Surveyors Network and FIG office. Read more |
14 September 2021, Ramallah, Palestine - or online
Expert Group Meeting on Housing, Land and Property Rights in Palestine within the ambit of the project "Achieving Planning and Land Rights in Area C, West Bank, Palestine" implemented by the United Nations Human Settlements Programme (UN-Habitat), in partnership with the Land and Water Settlement Commission (LWSC) and the Global Land Tool Network (GLTN), and funded by the European Union.
Read more: https://arabstates.gltn.net/2021/07/15/expression-of-interest-for-participation-in-the-expert-group-meeting-on-housing-land-and-property-rights-in-palestine/
Expression of interest: Deadline for application 30 July 2021
26 - 30 October 2021, Brasov, Romania
"Smart surveying solutions for sustainable development symposium" organized by Romanian Surveyors Union in collaboration with Transilvania University of Brașov. The event will be organized with both on-site and on-line participation.
Event Website coming soon: http://www.sgr.ugr.ro
6-8 April 2022, Valencia, Spain
5th Joint International Symposium on Deformation Monitoring (JISDM 2022) in cooperation with FIG Commission 6.
https://jisdm2022.webs.upv.es
---
Kind regards,
Ms. Louise Friis-Hansen
Director
International Federation of Surveyors
Fédération Internationale des Géomčtres
Internationale Vereiningung der Vermessungsingenieure
International Federation of Surveyors
Kalvebod Brygge 31-33
DK-1780 Copenhagen V
Tel. + 45 3886 1081
Direct: + 45 9391 0810
louise.friis-hansen@fig.net
www.fig.net
FIG Working Week 2024, Accra, Ghana
FIG Working Week 2025, Brisbane, Australia
FIG Congress 2026, Cape Town, South Africa
Subscribe monthly FIG Newsletter at: www.fig.net
---
The monthly Newsletter is mailed to all members, commission delegates and all interested partners. FIG offers the Newsletter to all members of member associations and other interested in FIG. If you don't already get your copy you can order it now at: www.fig.net.

FIG Newsletter brings you latest information about FIG and its activities. The information referred here is in full length available on the FIG web site. Thus the Newsletter is produced to inform you what has happened recently and what interesting things are going to take place in the near future. The FIG Newsletter is circulated monthly or bi-monthly by e-mail. The referred articles are in English and written in a way that you are able to extract them to your national newsletters or circulate to your members and networks.

If you do not want to receive the newsletter in the future, please click here to unsubscribe from the mailing list
.
---
FIG on Social Media:




Remember that you can follow FIG on the social media.
If you have not already joined, join us today:
Facebook: https://www.facebook.com/internationalfederationofsurveyors
Twitter: https://twitter.com/FIG_NEWS
LinkedIn: http://www.linkedin.com/groups?gid=2669121&trk=group-name
Instagram: https://www.instagram.com/figsurveyors/
---