Sponsors
Exhibition
There will be a trade exhibition at the Palais de Congrès. There will also be several opportunities for sponsorship. The exhibition includes up to date displays from manufacturers with their current range of instruments and software, consulting companies, displays on land management, real estate and property management and valuation. Any company or organisation requiring further information about the possibility of having a display should contact the FIG at markku.villikka@fig.net.
Each booth will as a standard contain:
Universal exhibit in pinewood color melamine-coated panels; aluminum structure; company name
9 lighting spots
2 Multi-outlet (220V grounded outlets in accordance with the European Standards)
2 waste paper baskets
8 chairs
3 tables or comptoirs
Services / Assembling / Dismantling.
Information on exhibition technical details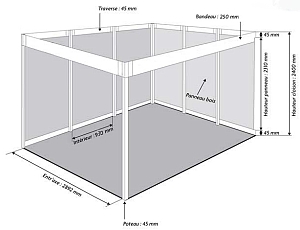 Further questions on booth details, extra AV and furniture, please contact the booth constructor:
La Societe l'Evenementiel Sarl
Contact: MH Drissi
Centre Commercial les Ambassadeurs
Avenue Mohammed VI – Km 5,8 – Souissi Rabat
MOROCCO
Tel. + 212 537 75 38 38
Fax + 212 537 65 47 47
GSM: + 212 661 77 06 41
E-mail: evenementiel@menara.ma or levenementiel@gmail.com
Information on shipping:
Société DSV Transport International
Contacts : Mme Saloua El Bathiri or Mr Abdelhai Jabri
Tel. + 212 522 40 16 66
Fax + 212 522 40 16 90
E-mail: saloua.elbachiri@ma.dsv.com , ghada.lamghari@ma.dsv.com or abdelhai.jabri@ma.dsv.com
Sponsors
Platinum Sponsors
Institutional partners
Media partners


GIM INTERNATIONAL


GEO:CONNEXION


GEOINFORMATICS


MY COORDINATES
List of exhibitors
Booth
Company
1
Trimble, USA
2
ESRI, USA
3
ONIGT, Morocco
4
Faynot, France
5
Orbits Engineering, Saudi Arabia
6
ETAFAT, Morocco
7-12
Chinese Pavilion
7
Satellite Surveying and Mapping Application Center, SBSM
7A
Chinese Academy of Surveying and Mapping
8
Beijing Geo-Vision Technology Company Limited
8A
SuperMap Software Co., Ltd.
8B & 9
Tianditu Co., Ltd.
10
Hi-Target Survey Instrument Co., Ltd.
10A-10B
SeaSky Geomatics Technologies Inc.
11
Sichuan Bureau of Surveying and Mapping
12
Shaanxi Bureau of Surveying and Mapping
13
GENEQ Inc, Canada
14 & 18
COFMAT, Morocco
15-16
Ministère de l'Agriculture et de la Pêche Maritime/IAV
17 & 20
Global Geoystems, Morocco
19
COFAS, Morocco
21
Geomax Suisse, Morocco
22
Taouhid, Sadiqi, and Baali Consortium, Morocco
23-24, 24A
Ministère de l'Habitat / Minister of Habitat
25
Secrétariat d'Etat chargé de de l'Eau et de l'environnement, Morocco
26
Bentley Systems, the Netherlands
27
National Office of Water - ONEP, Morocco
27A and 30A
SABR, Morocco
28-29
Ministère de l'équipement et des transports, Morocco
ANP: National Agency of Harbors
ADM: High Way of Morocco
SNTL: National Society of
Transportation and Logistics
ONCF: National Office of Railway
ONDA : National Office of
Airports
30
Leica Geosystems, Morocco
30B
Free
31
FIG Working Week 2013, Abuja, Nigeria
32
Robobat Maroc, Morocco
33 - 35
National Agency of Mapping - ANCFCC, Morocco
36
South Surveying and Mapping Instrument Co., Ltd, China. P. R.
37
Neolt Graf, Morocco
38
FIG and FIG Congress 2014, Kuala Lumpur, Malaysia
39
SEPRET, Morocco
40
Fugro EarthData, Inc., USA
41
Pc Mémoria+GEOMAP, Morocco
42
FIG Working Week 2012, Rome Italy and CNGGL, Italy
43
MDP Qualite, Morocco
44
Free
45
SETOM, Morocco
46
Créative Technologie, Morocco
47
Banque Populaire, Morocco
50
Kanq Digital Surveying & Mapping Co., Ltd., China P. R.
51
Bornes et Balises, France